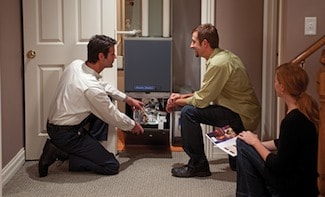 An Ounce of Prevention: How to Avoid the Most Common Home Heating Issues
There's a saying that I've heard many times, and I'm sure you have too: "If you take care of your things, they will take care of you". Having the oil changed, tires rotated, even regular trips through the car wash are a few examples of how we take care of our cars. And we're rewarded by having a well running car worth the hard earned money we paid to maintain it.
The same is true for the heating and cooling systems in our homes. A seasonal Clean & Check from a highly trained Premier Heating and Cooling technician is exactly what your furnace and air conditioner need to run smoothly, and with no major issues for many years.
As we head into the winter months, I'd like to highlight a few of the most common issues we see with heating systems:
Thermostats that malfunction can cause a heating system to not maintain the proper temperature in your home, or possibly prevent your heat from turning on altogether.
Air flow problems from malfunctioning blowers or clogged air filters cause your system to work harder to heat your home, costing you more money. It can also lead to damage due to overheating.
Ignition system or pilot lights can malfunction preventing any heating of your home, and can also potentially be a safety hazard.
There are many more ways that your heating system can break down, and chances of needing a very costly repair only go up the longer a system is unmaintained. The #1 preventive measure to reduce your chances of breakdown: Regular inspection and maintenance by a qualified technician.
What is a Clean & Check?
Our technician will clean your system to ensure it is free of debris (dust, dirt, leaves, etc.) that increase wear, and increase energy costs by reducing efficiency. Next, they will check the individual components of your system to see if they are working properly and safely. If any issues are discovered, the technician will bring them to your attention and make plans for a repair. With our Peak Performance Agreement your Clean & Checks become more cost effective with discounts on parts, labor, and our Worry-Free guarantee. See our Peak Performance Agreement page for further details on the available plans.
Don't let this winter catch you off guard. Get some peace of mind that your heating system will keep you and your family warm before the thermometer gets closer to zero. Contact us via our website or call 636-916-1122 today to schedule your Clean & Check.