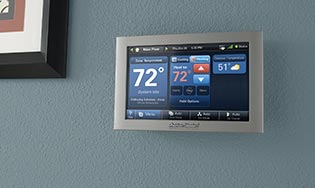 How to lower your utility bills with a programmable thermostat
There's no denying technology touches most aspects of our lives. One of the areas of heating and cooling where the technology seems to be changing the fastest are programmable thermostats. Many homeowners are opting to change out their basic thermostats, for ones with a wide variety of features. But are these additional features worth it, that is to say, do they really conserve energy and ultimately save you money? The answer turns out to be a little more complicated than you might think?
Why bother with a programmable thermostat?
There are several very practical reasons for getting a programmable thermostat, and there's no need to break the bank to see some of the benefits. To begin with, many thermostats like those offered by American Standard are designed to work with their heating and cooling equipment to provide a higher level of comfort by monitoring environmental conditions such as humidity levels and adjusting the run cycles accordingly. In addition, the programmable thermostat allows you to adjust the temperature setting depending on the time of day. Some will allow you to set different schedules on different days of the week. This is where things begin to get interesting for your pocketbook.
Schedules, what are they good for?
Above all the bells, whistles, and touchscreen features that are available on today's thermostats, none are more important to saving you money than the ability to set temperature schedules. The US Department of Energy has this to say:
You can easily save energy in the winter by setting the thermostat to 68°F while you're awake and setting it lower while you're asleep or away from home. By turning your thermostat back 10° to 15° for 8 hours, you can save 5% to 15% a year on your heating bill — a savings of as much as 1% for each degree if the setback period is eight hours long.

In the summer, you can follow the same strategy with central air conditioning by keeping your house warmer than normal when you are away, and lowering the thermostat setting to 78°F (26°C) only when you are at home and need cooling.
But, doesn't it cost more to bring a house back to normal temperatures during the day? Perhaps not:
A common misconception [..] is that a furnace works harder than normal to warm the space back to a comfortable temperature after the thermostat has been set back, resulting in little or no savings. In fact, as soon as your house drops below its normal temperature, it will lose energy to the surrounding environment more slowly. So the longer your house remains at the lower temperature, the more energy you save, because your house has lost less energy than it would have at the higher temperature. The same concept applies [to raising your thermostat setting [..] in the summer — a higher interior temperature will slow the flow of heat into your house, saving energy on air conditioning.
Set it and forget it
Using a programmable thermostat to conserve energy and save money is a simple matter of physics; the smaller the temperature difference from inside to outside, the more you'll save. But we can be our own worst enemy if we continually fiddle with the the thermostat settings. I suggest a set it and forget it approach:
Set your thermostat for 68 degrees during winter waking hours, and 78 degrees during the summer.
Decide on a period of at least 8 hours per day when you can set your thermostat 5 − 10 degrees cooler during the winter, or warmer during the summer.
Adjust the schedule and/or temperature only when it's absolutely necessary.
Follow these simple guidelines, and you should begin to see the difference in your utility bills. To inquire about getting a programmable thermostat for your home, or for questions about how to program an existing thermostat please use our contact form or call 636-916-1122